What to Sell on Amazon for 2019 – The Ultimate Guide
When I started researching what to sell on Amazon in 2017 and how to go about it, I put out feelers to see which products Amazon sellers recommend. I received few responses, but that's no surprise. After all, what successful Amazon seller is in a hurry to give away their profit-turning secrets?
But I did get several good product recommendations and category ideas, along with quite a bit of sound advice. All of it confirmed what I already knew about deciding what to sell on Amazon:
Success on Amazon isn't luck, it's science.
But luckily Amazon itself provides you with plenty of data to help predict if certain products are likely to bring in profits. And if you don't have a product starting point, Amazon also gives you to the tools to search for products that might be worth pursuing. Best of all, you can do all of this research for free, and before ever spending a dime on stock.
As of 2016, Amazon accounts for nearly half, 43% to be exact, of all online purchases in the US, as reported by Internet Retailer.
Why not try to capture some of those dollars yourself? In this guide, we'll show you how to research promising products to sell on Amazon. Then we'll explore advice and tips from several successful Amazon sellers. And last, we'll look at places where you can source products to sell on Amazon. In particular, we'll discuss:
Before we dive in, you really need to have your own online store to emphasize your brand, even if you plan to sell on Amazon. Customers often search online for products they originally found on Amazon and you can avoid Amazon's seller fees if they find your website first.
How to Discover Profitable Items to Sell on Amazon
Without any selling experience, can you find products that are likely to be profitable and just start selling on Amazon? Yes you can! And Amazon gives you much of the data you need to get started.
But before we dive into what Amazon's product listing details can tell you, we need to look at what makes an item profitable for Amazon sellers. From ship weight, to sturdiness, to category popularity and competition, there are many factors to consider. Your best bet is to identify a product that meets most, if not all, of these criteria.
Product Specifications: The Salable & Shippable Factors
Keep the following factors in mind to be sure products you're considering can bring in profits after your costs: wholesale price, shipping costs, and Amazon seller fees. Products with the following specs are a good place to start:
Target sale price between $10 & $50
Cost is 25% to 35% of your target sale price
Lightweight, easy and cheap to ship: 2-3 lbs. max, including packing materials and box
Simple, unbreakable items that won't break during shipping or in use
Evergreen items, meaning they're not seasonal or holiday-specific
Superior quality compared to the competition
Expansion opportunities into complementary products
The Competitive Environment on Amazon
In order to make money, an item that's profitably priced and easy to ship still must be in-demand and easily found by Amazon shoppers. Here are key factors that indicate whether or not a product has enough demand, and not too much competition, to be profitable. We'll explain these key points in further detail below:
Products aren't being sold by big brand names or major Amazon sellers
Similar items have a Amazon Best-Seller Rank (BSR) of 5000 or lower in the main category
Items can be searched and listed under multiple keywords and product categories
Top product keywords have more than 100,000 monthly searches
Similar product listings have less than 50 customer reviews
What Amazon Product Listings Can Tell You
Every Amazon product page is a goldmine of information, and several nuggets of valuable information appear under the product description. This lists under the product image, but above the customer reviews, on Amazon's product pages.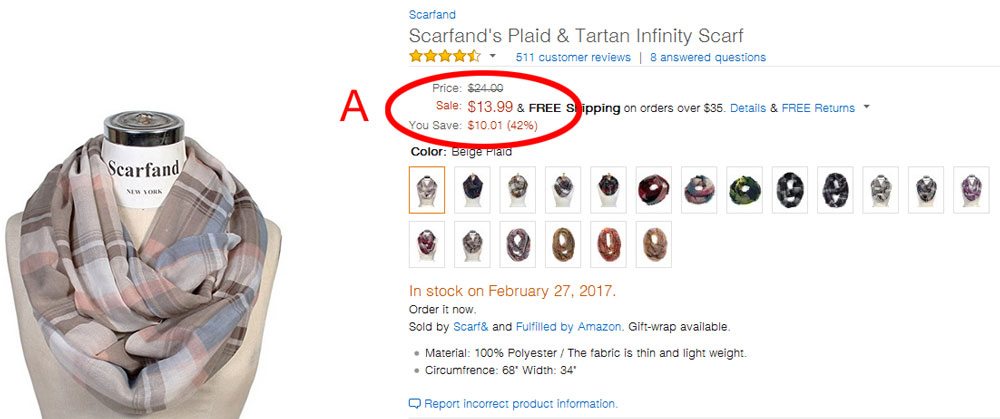 How Can You Use this Information to Spot Products to Sell on Amazon?
Let's see what the product description tells us about this item: a lightweight fashion scarf that can be sold and worn year-round which, to start, meets our evergreen item criteria.
A. Item Pricing
This item's list price is $24, but is listed On Sale at $13.99. Even on sale, it's over our $10 target minimum. There's a good chance that this seller uses a popular Amazon pricing strategy that make items "On Sale" all of the time. You can check out the seller's other listings to see if they're all "On Sale." If so, you'll know this is how they always price their items.
"Buyers on Amazon are looking for good deals, so if you can offer them a fair discount, your product will sell well. I use a classic trick of artificially high price and a big discount. For example, I set regular price at $34.99 and sale price at $18.99. Buyers like to feel that they're getting a good deal, and my products sell much better this way."

— Paulina Masson, Amazon FBA Seller & Founder of AMZPing
To be profitable competing at $13.99, you need to find this type of item at a wholesale cost of around $3.50 to $4.90 to meet our cost = 25%-35% of the sales price criteria. Note total wholesale cost also includes your cost of shipping items from your manufacturer.
B. Item Weight & Dimension
This is useful to see if an item is costly to ship. The weight of this item is just 3.2 ounces, which is light enough to ship inexpensively via US Postal First-Class mail. Its size seems large at 9x7x1, but since it's a scarf, we know it can fold and ship in a lightweight mailer envelope. So it meets our cheap-to-ship criteria. Also, since it's a scarf, it won't break in shipping, which meets our easy-to-ship criteria.
C. Item Sales Ranking for Overall & Specific Niche Categories
This information tells us several things. First, this scarf's Best-Seller Ranking in its largest category, Clothing>Men's>Shops, is #2709, well under the BSR 5000 that we look for.
Then in two niche categories it really ranks high. It's in the Top 100 Women's Scarves and in the Top 10 Men's Scarves. This item really is a mover in its categories. Why? Probably because it offers so many color choices. That's something to keep in mind. Customers like options.
Another reason for its success is that it has appeal to men and women, and therefore multiple keyword opportunities for both Men's Scarves and Women's Scarves. That makes it a far more marketable, and salable, item compared to products that target just men or just women. That's another thing to keep in mind when thinking about what to sell on Amazon.
And speaking of keywords, Amazon doesn't give you a great tool to research the number of keyword searches for a product, but this website does: Merchant Words
As you can see above, in a basic search of the keyword womens scarf, there are more than 880,000 monthly searches on Amazon. So this item meets our 100,000+ keyword search criteria. And that's just one possible keyword for this item!
On Merchant Words, you can see this general volume for free, or subscribe for $30/month if you want do serious keyword research. To get started, the free search is all you need.
D. Customer Ratings
This item is well over our target of 20 to 30 customer ratings. This is important because Amazon uses customer ratings as a ranking criteria in shopping search results. This can be a negative for a potential item since it's hard to beat a listing with so many high rankings. But you can look at this another way, too.
500+ reviews is a very respectable number. In fact, you'll see that many of the Top 100 Sellers in Scarves all have well over 50 reviews, as shown below. That tells you scarves are hot, and lots of people search and shop Amazon for them. Yes, you might face competition, but there's a lot of demand, too.
If a niche category Top 100 is filled with products having 50 or fewer reviews, that indicates there's not a lot of demand from buyers. Sometimes selling in a hot category with some competition is better than having the top items in a low-demand category.
"If you manage to find a niche that has low competition and high demand, you are in luck! Choose a product that sells well, read the reviews to learn what buyers are not happy about, improve the product by modifying or adding some features, and voila – you have a winner."

— Paulina Masson, Amazon FBA Seller & Founder of AMZPing
Speaking of top sellers and high-demand items, below are links to Amazon's Top 100 Best Seller pages and other sales tracking pages. These are great places to get ideas for what to sell on Amazon.
This is the running average of the Top 100 best-selling items on Amazon on any given day. If you're serious about selling on Amazon, this is an interesting page to watch. From this page, you can drill down into the Top 100 best sellers for countless categories and subcategories. This is really useful for researching best-selling niche items.
From this page, you can click on the tabs at the top to see the following:
Now you have some research tools in your Amazon selling arsenal, but the possibilities are still enormous. How do you spot a golden nugget of opportunity? What potential products should you research first? Let's narrow the field by taking a look at what seasoned Amazon sellers find profitable.
What Do Others Successfully Sell on Amazon?
So what do sellers, large and small, find profitable on Amazon? The answers may surprise you. From live crickets, to private-label brands, to yard sale finds, successful Amazon sellers move all sorts of products through Amazon at a profit. Here's what several have to say:
Self-manufactured & Handmade Items
"The best products for a small business to sell on amazon are products the business makes themselves. If the business doesn't make any of their own items, then they should focus on items that aren't that popular – where they will have less competition. A small business on Amazon needs to compete on items that aren't that competitive. And don't focus on items too cheap. The fees will end up eating all of your profit."

— Andrew Jacobs, JAM Paper & Envelope
Original Games
"I am the creator of the kid's tangram game Cheechowban. Selling on Amazon is great as compared to selling on a website. The brand recognition and distribution of Amazon is unequivocally unparalleled when you are talking about a company intending to start shipping via drones."

— Brad Hines, Startup Advisor, Digital Marketing Strategist, BradfordHines & YumDomains
Crickets?!?
"I sell live crickets on Amazon. Although amazon fees eat away at the profits, the exposure and traffic volume that naturally comes from Amazon displaces the cost to market the crickets just from my website."

— Jeff Neal, Amazon Seller, The Critter Depot
Customized & Unique Items
"I have been doing Amazon selling for clients for over 5 years now. This is what I have learned. Do not sell a commodity item. Too competitive and Amazon will just eventually sell it direct when it sees how popular it is. Sell something customizable and unique. Amazon is now making it easier to customize items for sellers. Jewelry is one area where the margins are still good and very little competition on specific items."

— Jeff Moriarty, Tanzanite Jewelry Designs
Sporting Goods & Consumable Items
"Sporting goods is a category which I am successful in selling. Also, consumable products are difficult to replicate and have good margins because of repeat purchase. The price point which works best is $15-$50. Niche items sell better now because there is too much competition for mass based products."

— Rohit Malhotra, Amazon Seller
Resale & One-of-a-Kind Items
"I sell stuff I don't want anymore around the house or products I get that look new at garage sales/estate sales. I find the best products that sell on Amazon are rare or unique books or other items that there are not tons of copies of. The best price point is to go a little lower than the lowest price. If you have good traffic the minute you drop the price you get customers wanting to purchase. Niche products definitely sell better and also you can gain more profit on them."

— Sonja Fisher, Amazon Seller
Private Label & Private Brand Items
"Private Labeling is the way to go with Amazon today. Gone are the days when it was easy to find a few good deals in the Clearance aisle at Walmart, and resell them on Amazon. There are brand gating limitations now and many other sellers to compete with. You will have to sell a lot of products before you build up your seller profile and Amazon starts giving you a good share of sales. You will have much more success with your own branded products with unique design."

— Paulina Paulina Masson, Amazon FBA Seller & Founder of AMZPing
I'm starting to see a trend here. It looks like small sellers find success selling niche items, customizable products, one-of-a kind pieces, unique jewelry, and even live bugs. Overall, small sellers avoid competing against large volume sellers and Amazon itself on mass-market goods.
Of our respondents, only one focused his selling on mass-appeal products such as sporting goods and consumables. But remember the product research tips we covered earlier. Even within large categories, there are still plenty of ways to stand out within niche categories with unique items, private label, and self-branded goods.
So we've covered how to research profitable items and have seen what the pros have to say. Next let's take a look at where you can source products to sell on Amazon.
Where to Source Products to Sell on Amazon
Once you do your product research and have an idea of what products to target, it's time to start searching out product suppliers. Here are two good places to start your search:
Alibaba is a gold mine for finding inexpensive import suppliers for Amazon products. It also provides excellent resources to help you learn all about product sourcing and importing process. Learn how to get started sourcing imported products to sell on Amazon here.
Wholesale Buyers Markets
There are wholesale buyers markets throughout the US that focus on every industry imaginable, from pet products, to healthy living, to hardware. The best way to find wholesaler markets for products in your specific niche is to do a Google search for "your product or category wholesale buyers markets."
The most numerous and accessible markets are those catering to home, kitchenwares, gift, fashion, baby, and accessories categories, like the many markets held at the Dallas Market Center:
Here are other major wholesaler markets that are worth a visit, especially if you're seeking items in the home, garden, and fashion categories:
Wholesale buyer's markets are great places to find private-label opportunities, trending items, and new product releases for whatever you'd like to sell. Usually, you just need a DBA and state sales tax certificate to gain entry, but always contact the market office first. Many buyers' markets require proof of business ownership, like a company check, and even pictures of a physical store or ecommerce website.
Who knows? If you do your research and seek out a great supplier, you might be the one who finds the next big thing on Amazon.
The Bottom Line
Amazon accounts for nearly half of the online sales throughout the US and the world. Some categories and product lines have such competition they're not worth considering. But plenty of profitable opportunities remain for sellers who are willing to do a little homework, such as:
Seeking niche, unique, and even private-label type goods
Conducting sales and competition research using Amazon's own BSR data
Considering high-demand categories, even with some competition
Seeking products that appeal to many buyers, not just men or women
Keeping product costs under 35% of the selling price so the item is profitable even after shipping costs and Amazon seller fees
Selling items that are lightweight and unbreakable, therefore easy and inexpensive to ship
Setting price points or using "On Sale" tactics that convert browsers into buyers
It's a lot of work at first, but clearly this process leads many sellers, both small and large, to profitable sales on Amazon. So why not give it a try?