Making $100,000 a year: Merch with Shopify and Amazon – No Inventory Guide
Merchandise has been one of the hottest and fastest growing industries online for years now. I have always kind of stayed away from the industry for one reason or another, but I finally decided to give it a try last year. At years end, my business partner and I ended up making hundreds of thousands of dollars and I was absolutely hooked!
This guide is going to go over the next best thing to hit the merch scene: the Shopify Amazon integration and how you can start selling 10's if not 100's of different products on Amazon without holding inventory or dealing with ordering product from China. $100,000 a year or more has literally never been this easy before!
Every internet entrepreneur is always looking forward to see what the future holds. Let us be perfectly clear that this is not a get rich overnight type of deal. To succeed you are going to need to work hard, put in the hours, and treat this as a business. That means doing the research we lay out below, taking the time to list products, and producing stunning designs (either by yourself or outsourced). Every little detail is going to be laid out in this guide, so let's get to it!
What Is Merch?
If you have been reading what I have been posting this last year, you may be thinking about Merch by Amazon where the focus was just t-shirts. Merch, however, goes a lot more broad than that. This can include anything from funny novelty t-shirts to flags you hang on your wall, to the yoga pants that are worn to the gym and everything in between.
If you have sold on Amazon before, or pushed t-shirts and realized how many customers you have access to, then you know how lucrative it can be. Shirts are just the tip of the iceberg though. If you could start selling beach towels, coffee mugs, yoga pants, flags, and any other type of merch without ever seeing or touching inventory on Amazon, imagine how your earnings would explode overnight.
Why Merch?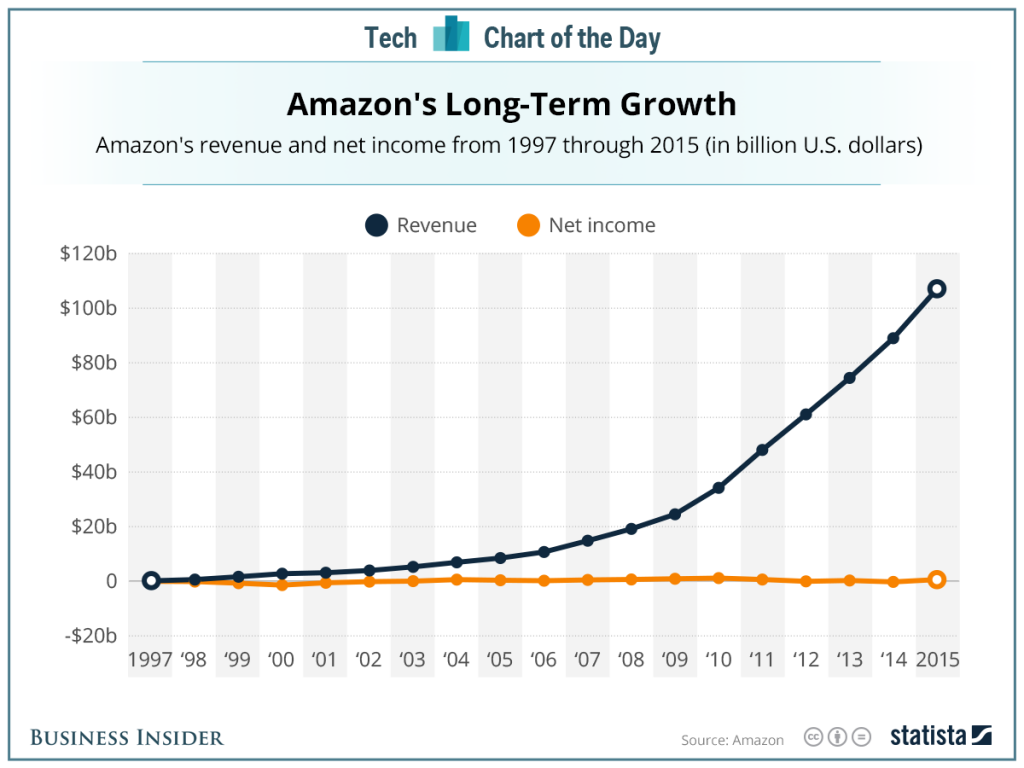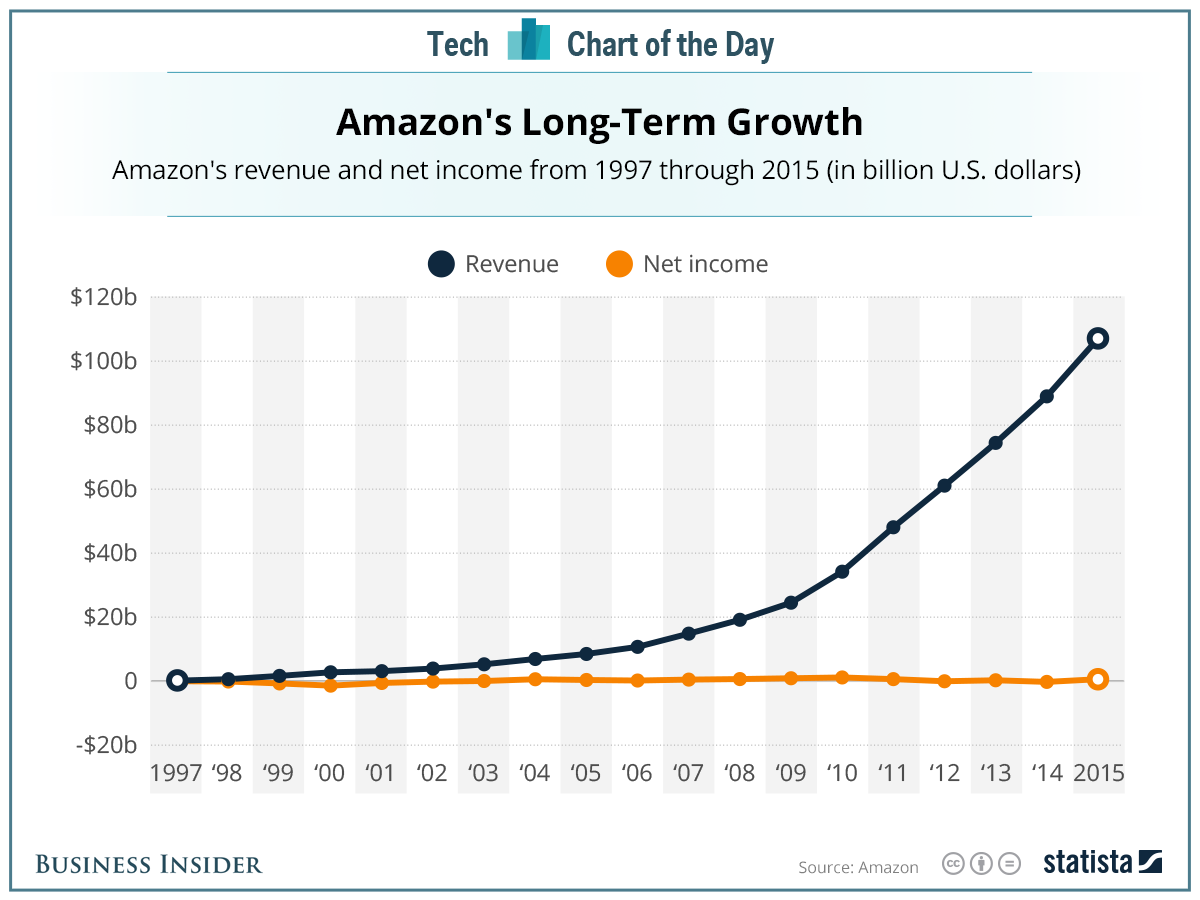 As you can see from the image above, Amazon is doing it's very best to capture as much market share as it can. That is literally all they care about, grow bigger than everyone else! At the very end of 2015, they opened yet another program to attempt to take over another sector of the market: Merch by Amazon. This program was aimed at dominating the print on demand (POD) niche, and it was an overnight success.
This program allowed everyday people and designers like you and I to put up original artwork and funny says on novelty t-shirts and sell them to Amazon customers without ever dealing with customer support or touching the actual product. Amazon sold, packaged, and shipped your products and gave the designer a royalty. Earnings from early adopters were absolutely massive and in some cases into the 100's of thousands of dollars.
Unfortunately, Amazon did not expect the monster growth of the Merch by Amazon program and quickly turned it into an invite only program. Recently they have been processing so many orders that they have completely stopped accepting people to the program and people who do have an account are not allowed to publish or are allowed to publish with restrictions.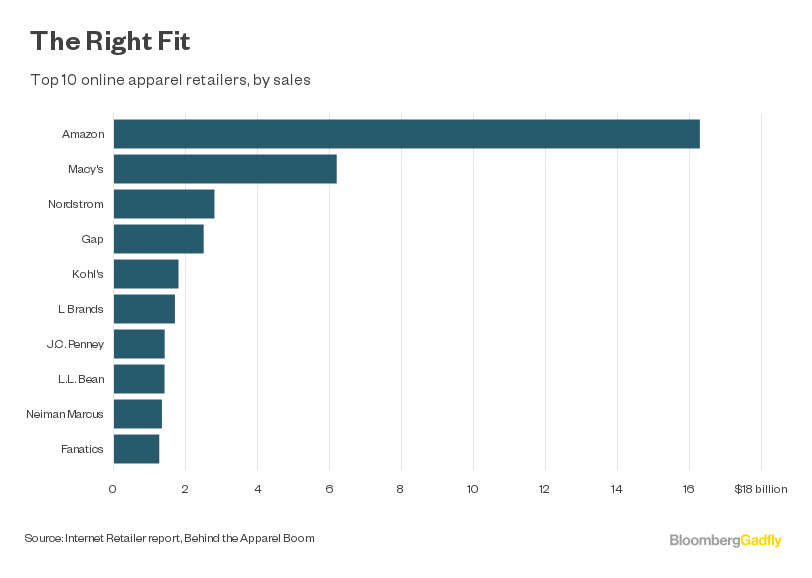 You can see that if you want to make money online by selling apparel, you NEED to be selling on Amazon. There is really no other way around it. By 2020 they are going to be absolutely dominating the online market place and you have the chance to be a part of it.
With Merch by Amazon closed to the public, and not wanting to deal with shipping items from China or dealing with a print shop for every order, what can be done?
Fulfillment by Amazon is an option, but from our experience, not a very good good one. You would have to buy the products a head of time and send them to a ware house. With Merch by Amazon, we clearly know that selling Merch hands off is the way to go!

Use Shopify To Sell Your Merch!
Many of you reading this are at least familiar with Shopify as a content management system and online store payment processor. From here, you will be able to put your products up for sale and sell them to customers who visit your site.
With recent changes and Shopify integrating with Amazon, this 100% the way to go. Why?
You will have access to not only T-shirts but….
Tank Tops
Phone Cases
Beach Towels
Coffee Mugs
Cutting Boards
Stickers
Long Sleeves
Hoodies
Dog Bowls
Flags
Blankets
Mouse Pads
Shower Curtains
and much more!
Are you starting to see the big picture here? You can take the artwork that you created for shirts or other mediums, and turn a single image into 10s if not hundreds of different products that you will sell ON Amazon.com. No more handling inventory or trying to drive traffic to your store anymore.
This is going to be a long one, so strap in, and let's go over step by step on how to set up everything so you are no longer held back by Merch limits.
Shopify Amazon Print On Demand Method
To make this method work for you, you are going to need 4 things.
Understand Amazon BSR (Best Sellers Rank) and what sells best on Amazon
Designs/Artwork
Amazon Seller Account
Shopify Account
Let's go over how I get everything set up and then we will tie them all together.
Understanding What Sells on Amazon (Best Sellers Rank)
The very first thing you need to do before you start your journey is understand what sells best on Amazon, how to spot these items, and how to properly research the different niches you want to create merch around. There are two very key aspects that you need to have a solid understanding of to have any success. These are Amazon BSR or Best Sellers Rank, and the second is understanding Copyright/Trademark.
Amazon BSR (Best Sellers Rank)
Every single product that is sold on Amazon has something in the product information called the Best Sellers Rank or Amazon BSR. It will look very similar to this:

The BSR is a representation of how well that item is selling in its respective category. The smaller the number, the more items they are selling. The higher number, the fewer items they are selling. For example, if a shirt were to hit number 1 in clothing, it would be the most popular shirt selling on Amazon.
From my experience selling, a BSR of around 100,000 in clothing equates to around 1 sale per day. This is not set in stone, but 100k BSR is usually what I focus my sites on when doing niche research.
Copyright/Trademark
You also need to have a full understanding that you are not allowed to infringe on someone else's copyright or trademarks. This means that you are NOT allowed to simply copy someones design and put it up on another piece of merchandise. Doing so would be breaking copyright laws.
If someone has a particular saying in their artwork that is selling particularly well, they might decide to trademark that term. This would mean that you are NOT allowed to use this term in any of your designs even if it looks completely different.
Copyright and Trademark are both different beasts so make sure you are not infringing on someone else's intellectual property. A lot of times, you might put something up on Amazon which then gets trademarked later on down the road.
Getting Designs/Artwork
When I first started, I created some designs myself. Since I am not a designer by trade, this took a lot of my time up and I had to actually watch some tutorials on YouTube to make sure I was using Photoshop correctly. Once I saw just how well my designs were selling on Amazon, I started to scale up very quickly and this meant getting a designer (or 5), on board to start cranking out original designs. Keeping up with organizing all my ideas for 5 designers was a bit difficult manually as I was sending out hundreds of links per week to different people.
Finding a good designer can be extremely hard. You want one that you can count on to be on time, every time. You also want a designer that has some integrity and will be original when you send them ideas. I have managed to hire my entire team of designers at full time for $4 per design each. This may just be personal experience but a lot of them from the Philippines and this really ads up to a great wage in that part of the world.
I have found excellent success by using Upwork. Upwork is a marketplace to post jobs you are interested in completing and then hiring freelancers. Below is the script that I used to hire each one of my designers.
Hey, I am in need of 400 t-shirt designs in the time period of 2-3 months.

Your task will be pretty basic, I will send you ideas of t-shirts I want to make and you make them yourself in your own unique style. For example, I might send you a link of a already existing tshirt and I would need you to be inspired by it and create a better version that is in your own creative style.

I will leave a lot of 5* reviews so that you will be able to get jobs easier in the future and this is a long-term position. Once we have done the first batch of 400 – around 4 per day, we could continue if everything looks good.

I look forward to doing business with you!
This works well for me because I always have a lot of designs for them to do because I am quickly scaling up so they will have some long term work from me. It also works well because a lot of very talented people are new to the Upwork platform and are trying to build up their profile to find other jobs. Lots of great reviews from you as a satisfied client can help them in this journey. What this means for you is that they are going to put the best effort forward in order to earn those 5 stars.
Quick Note: Weeding Out Bad Designers
When I first tried to hire someone to design for me, they stole images and straight up copied designs. This is wrong, and will get your Merch account banned. I was not able to use any of these designs.
When I first hired someone, I let them know that they cannot use any images which are Copyrighted, or infringe on any Copyright someone else owns.
Then, I will send them a T-Shirt idea that is very clearly Copyright infringement. If they copy it or do not change it enough to be considered free use, I will immediately get rid of that designer (and that design). The design may have cost me $4, but that is an extremely small price to pay to weed out the copycats!
Amazon Seller Account
The next piece of the puzzle that you are going to need is is an Amazon seller account.
You can sign up for one here: https://sellercentral.amazon.com
This will ask you to sign into your Amazon account and if you do not have one already, simply sign up for one.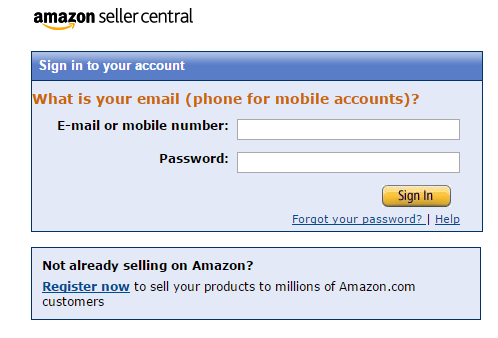 Once you are signed up and logged in, there are few things you are going to want to do.
First you will want to navigate to the upper right hand corner to "Settings" and then Account Information. It will bring you to a page that looks like this: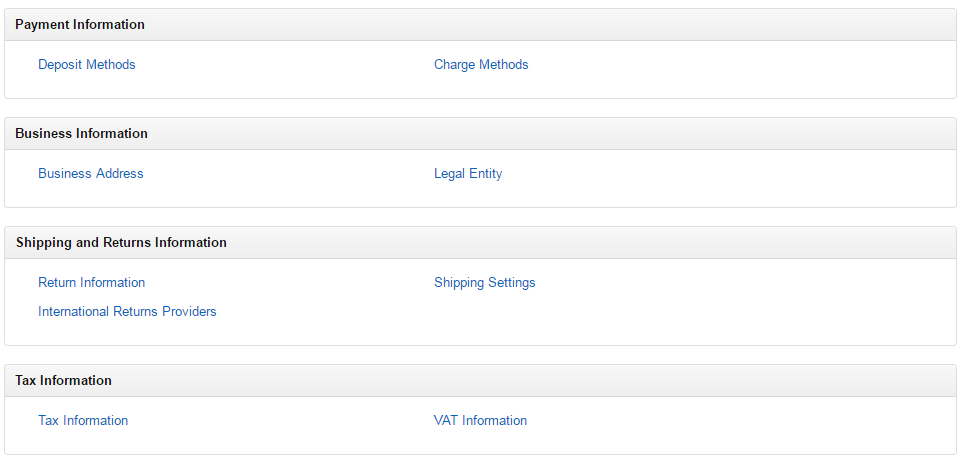 Fill out the Deposit information so that you are going to get paid, and the tax information. Feel free to change any of the other information but for now all that you need to change is how you get paid, and the tax information.
Next, navigate to the left hand corner of that page where you should see a "Your Services" box.

Click on Manage and then upgrade your account to a Professional Account.

This offers you multiple benefits. It will cost you $39.99 a month, but…
No $0.99 Closing Fee for each item sold, only a monthly $39.99 subscription fee, referral fees and variable closing fees
Ability to collect US sales and use taxes on your orders
Customize your shipping rates and services levels for all products (except Books, Music, Videos and DVDs)
Manage your inventory using feeds, spreadsheets, and reports
Manage orders using order reports and order-related feeds
Access Amazon Marketplace Web Service to upload feeds, receive reports, and perform other API functions
Ability to offer Promotions and Gift Services
Eligibility for Featured Merchant status and listing placement in the Buy Box.
Simply put, If you are selling more than 40 pieces of merchandise a month, you are much better off get a pro account so you have higher profit margins. For this method to work with shopify, a Pro account is REQUIRED.
Shopify Account
Getting a Shopify account is extremely easy and they have a 14 day FREE trial.
Head on over to Shopify.com and click on the get started box in the upper right hand corner.


You will then just need to fill out your email address, password, and the store name you want to create.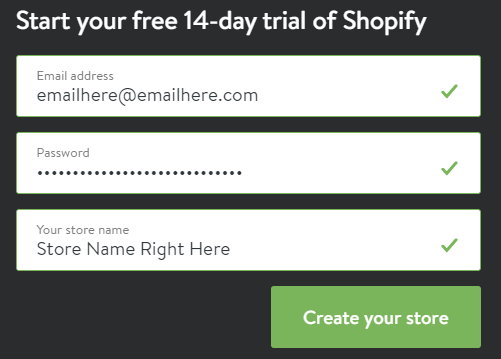 Click on the big green create your store button and Shopify will start setting itself up.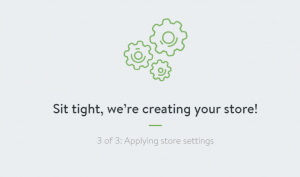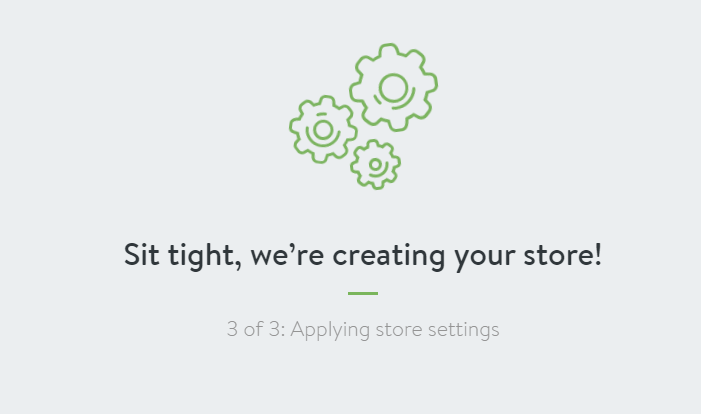 Connecting Shopify and Amazon For No Inventory Fulfillment
Now that you have a fancy new Shopify store for free for the next 14 days, it is time to start taking advantage of what it has to offer. At first, your store will look just like this when you log in.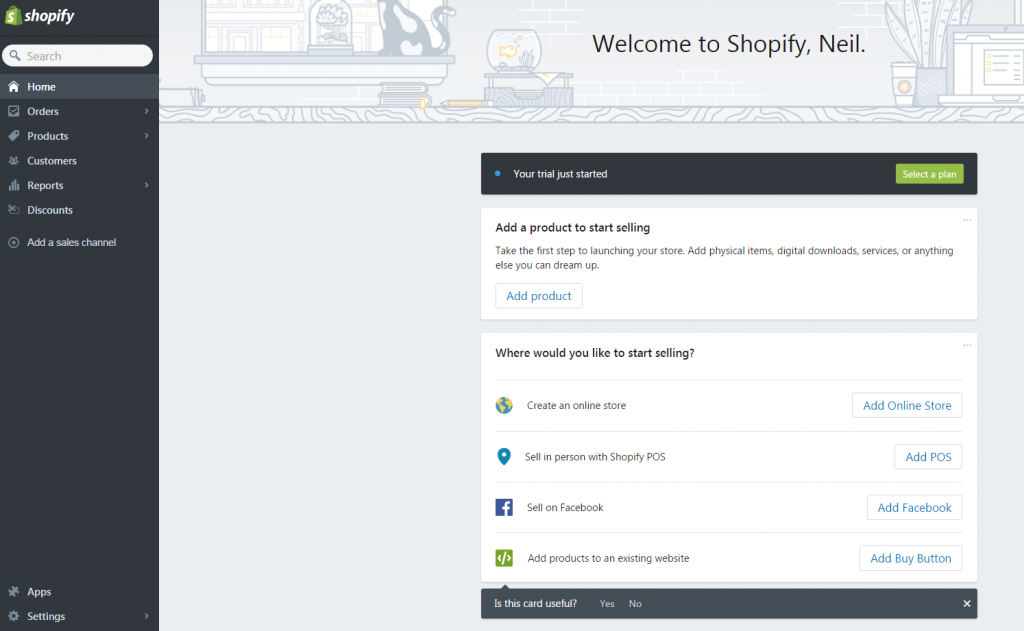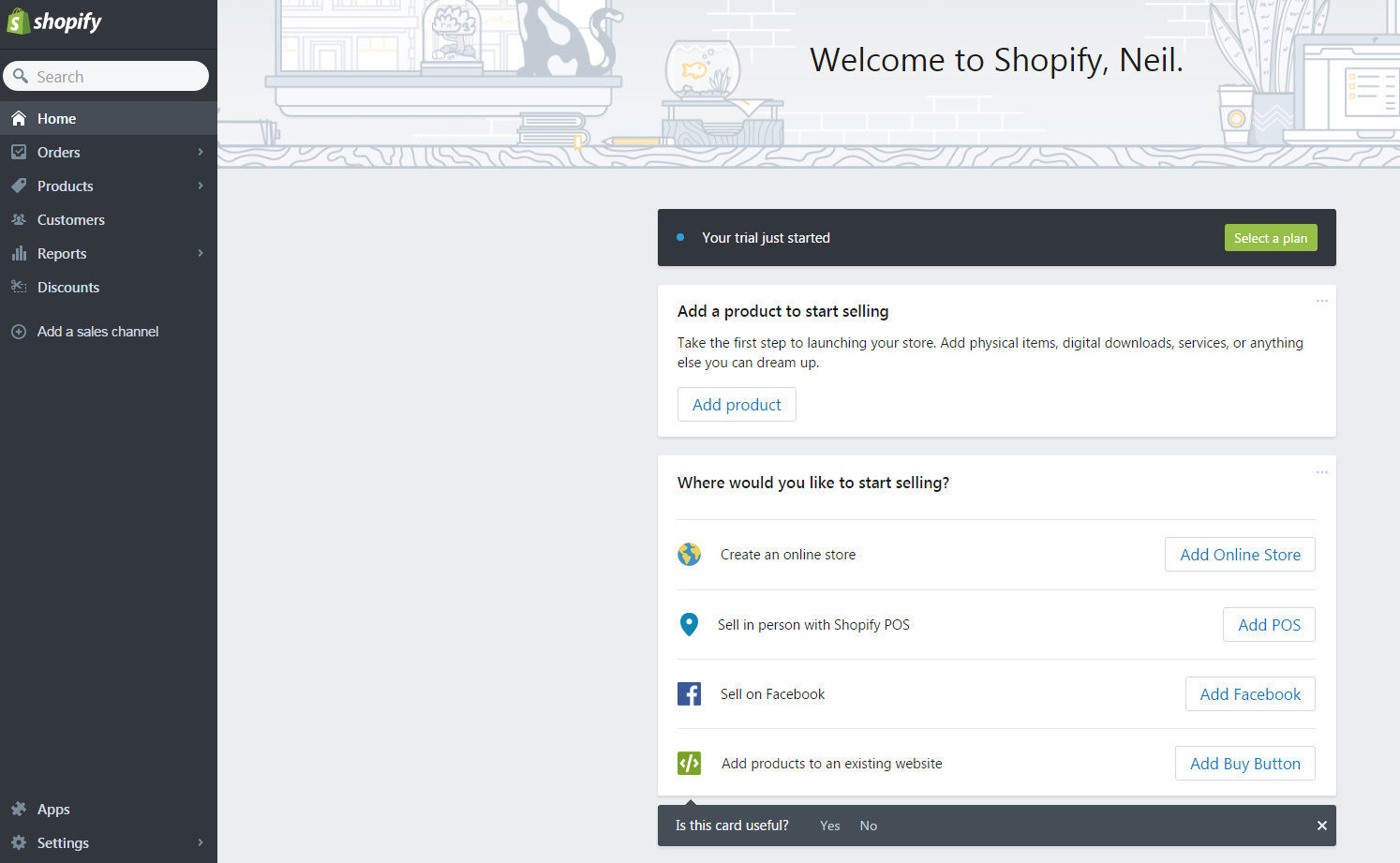 In the lower hand corner, you will see "Apps". Click on this.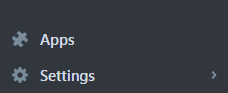 What we are looking for here is an App that will fulfill all your orders for you. This is how we are going to print on demand without holding any inventory ourselves.
Search for Teelaunch. It will bring up the page for this app that looks like this: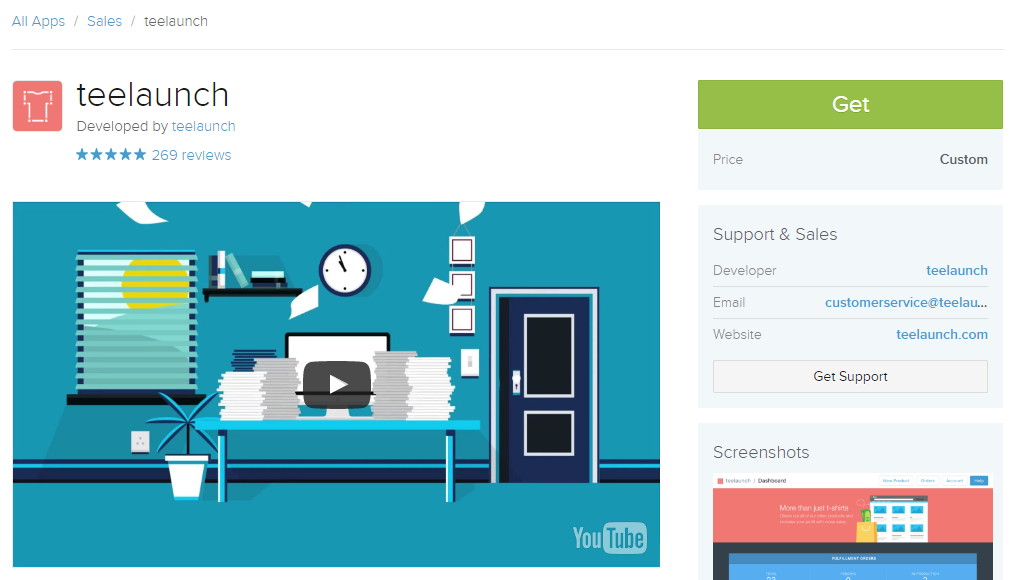 Click on the big green "get" button to install this app. You will need to quickly confirm that you want to install it on your shopify store.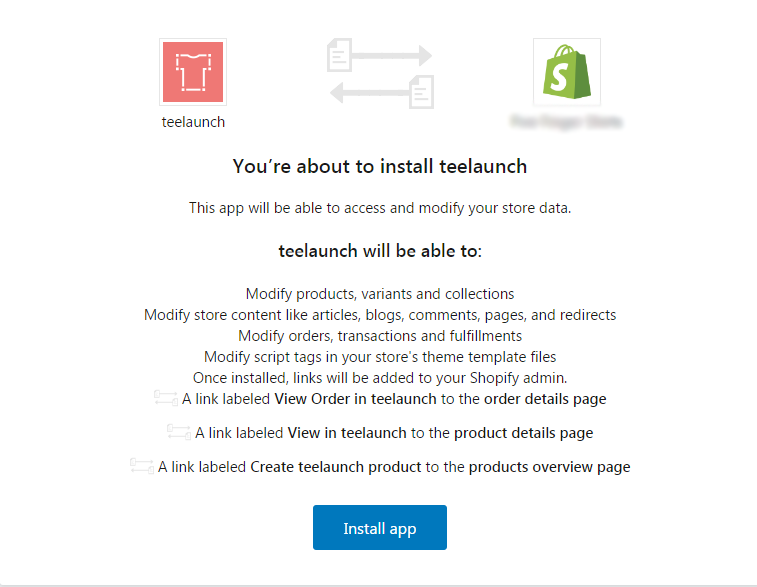 Click on Install App and let it do its thing. Once the app is installed, go back to the left hand side menu, and click on Apps again. We are about to set up this app and add our first product.


Once you click on the app, you should see this dashboard:

Click on the Account button in the upper right hand corner. We want to make sure everything is set up to auto accept and fulfill orders.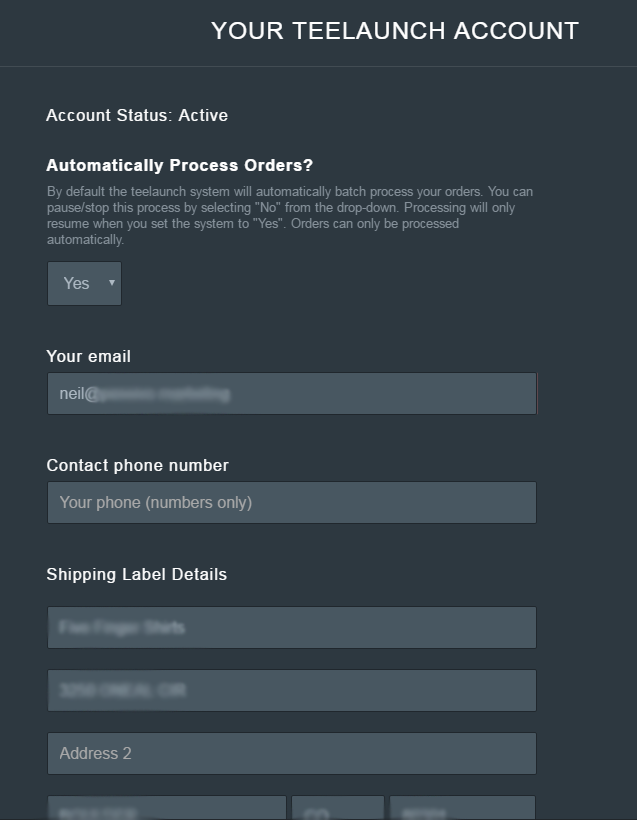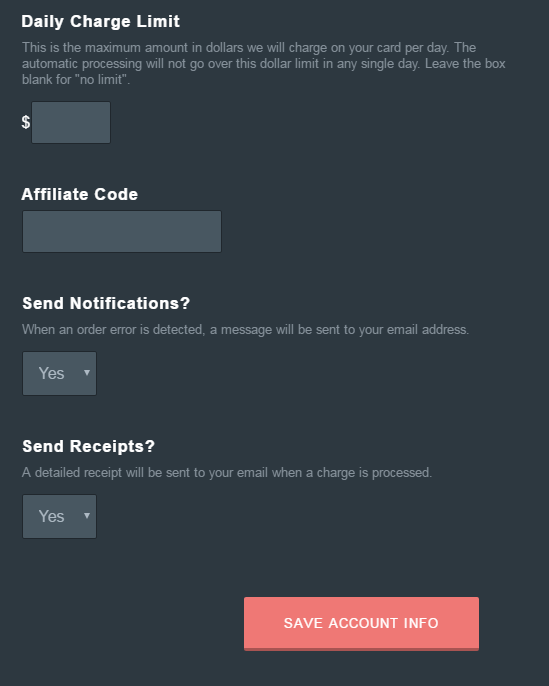 Fill out this page making sure that the top box says "YES". You will need to add a credit card for the orders that you send Teelaunch. While you will be paying them the base price for the shirts and other merchandise orders you send them, you will be collecting the money from the sales in the Amazon central account.
You will also need to set Shopify to NOT automatically fulfill orders. To do this, go into your Shopify settings -> Checkout and then in the Order processing section, unselect to automatically fulfill the order items. In most cases "Do not automatically fulfill any of the order's line items" will be selected which is the setting you want.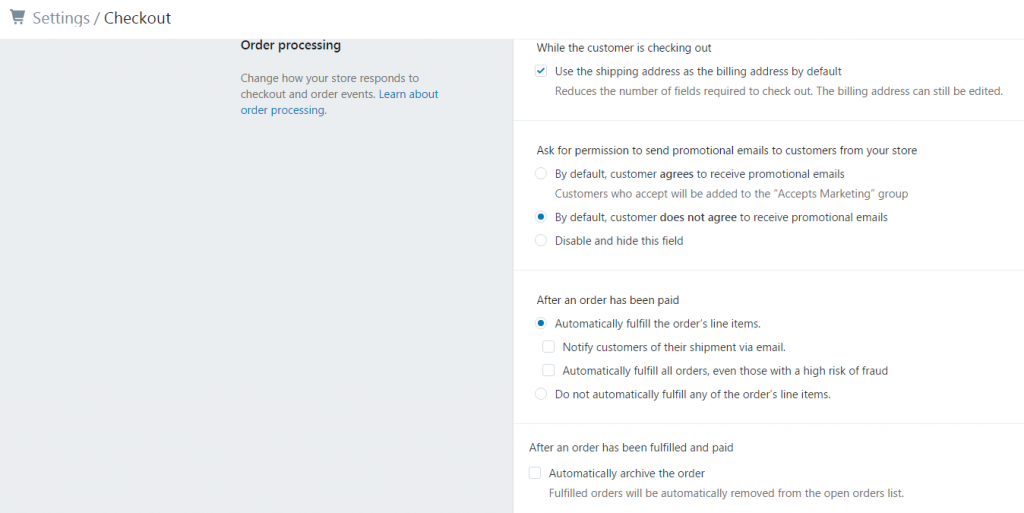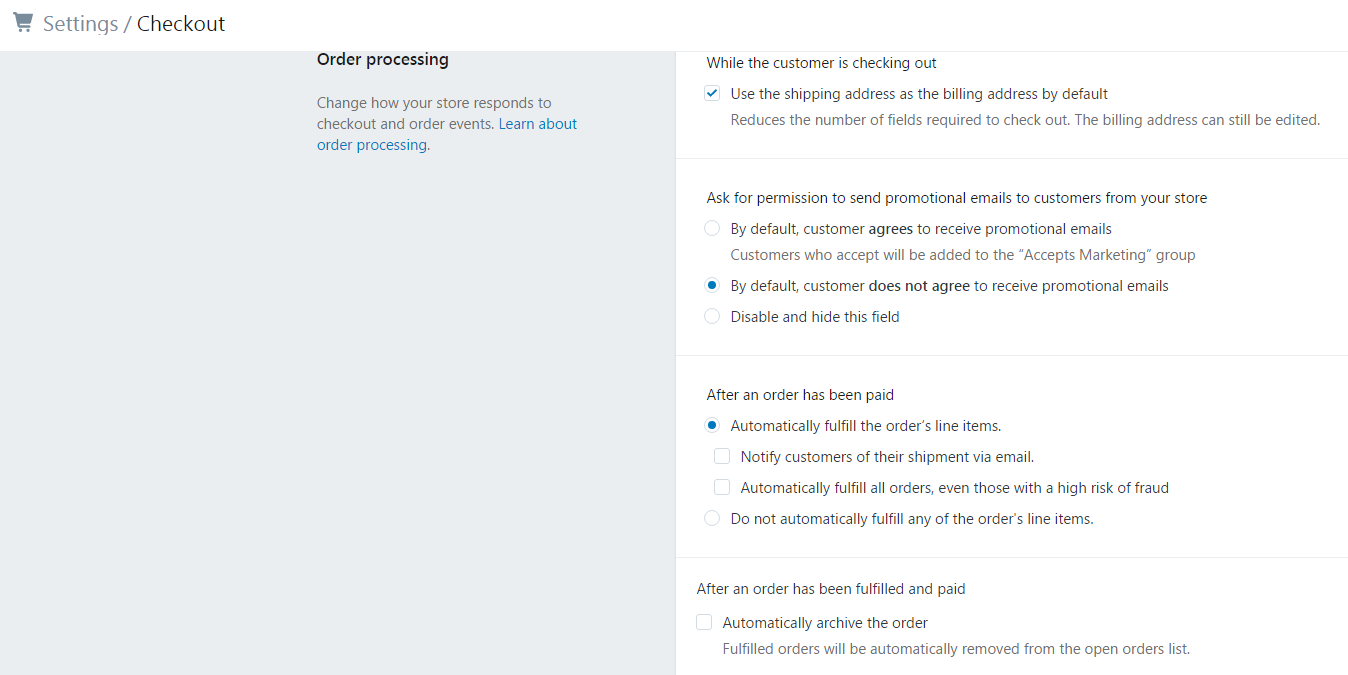 Adding Your First Piece Of Merchandise
Now we are finally ready to add our first piece of merch. From the teelaunch app, you will want to click on "New Product" on the bar near the top of the page.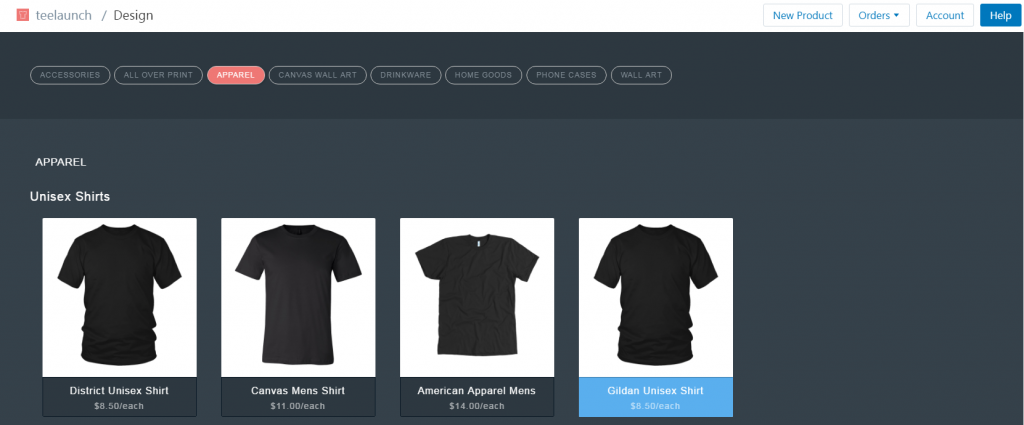 This is where you can see all the products that are available for you to put your designs on! Not only can you do shirts (which is what this entire tutorial is going to go over), but as mentioned above, there are so many other pieces of merch you can print and send to customers on Amazon. All without lifting a finger for the products yourself. Teelaunch will take the orders and ship them for you while you sit back and collect money off the designs and products!
For this method, we are going to be using the Gildan Unisex shirt. As you can see I have chosen that one on the screen. Once a product is chosen, scroll down to the bottom and click on "Start Designing". This will bring up the product information and give you a little information about the shipping costs. This is also the space where you can upload your artwork to the shirts and pick what sizes and colors you want the shirt to be available in.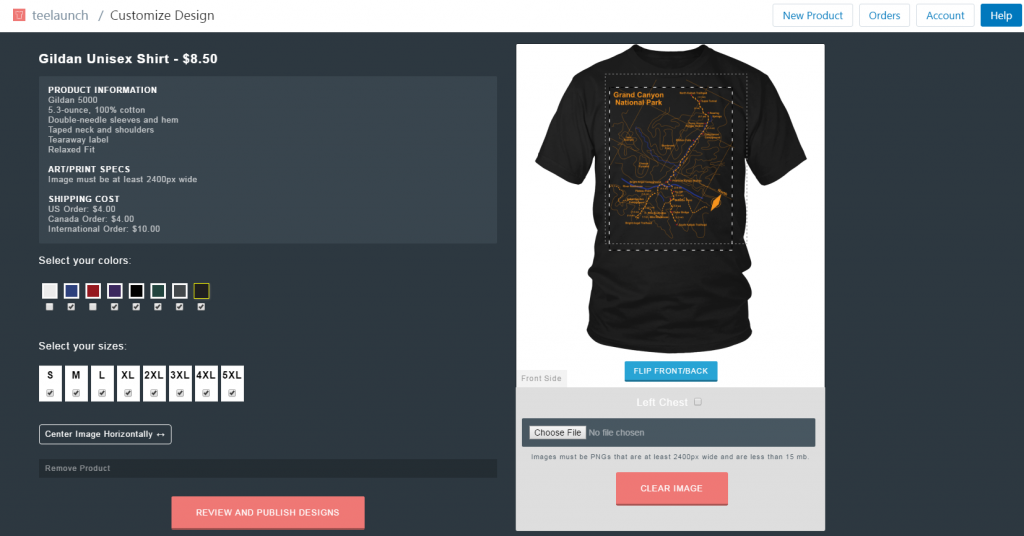 As you can see, using this shirt, it will cost you $8.50 as a base price and $4 shipping.
Click on "Choose File" to upload your design and then play around with dragging and dropping it as well as dragging the edges out so it displays properly on the shirt you want to list. I just took one of my Merch ready shirts to display how it would look. Pick a few colors and a few sizes.
Important: You will need a separate UPC code for every single color and size variation you pick. I will go into this in detail further down, but it is best to not automatically select every color and every size.
Once the design is looking good, click on Review and publish Designs. This will bring up a page where you can add product tags, add your selling price, title and description.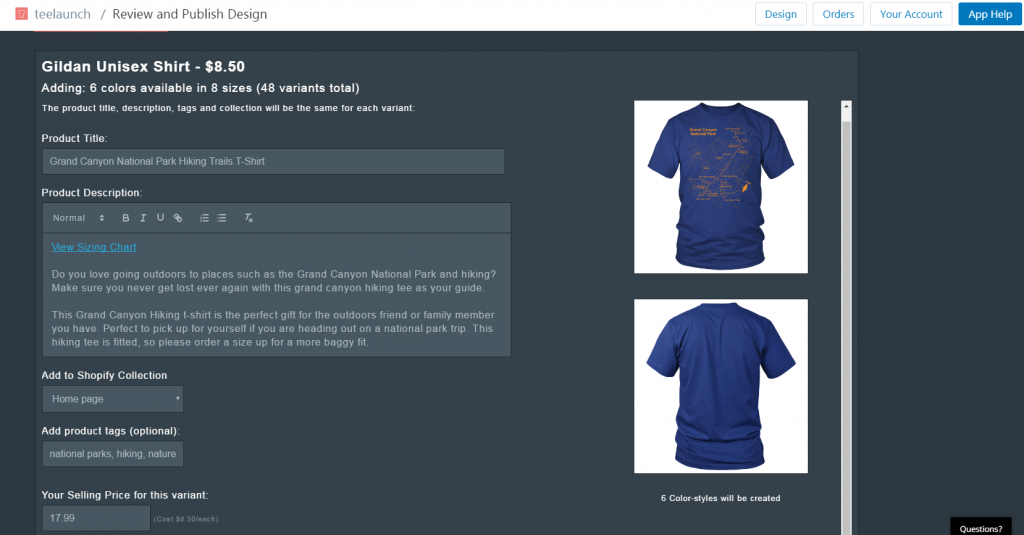 Once you are satisfied with how everything looks, go ahead and click on publish at the bottom of the page and your shirt will start processing in all the colors and variations that you have picked.

This can take a little while if you pick a lot of sizes and colors. As you can see from the above picture, I have 48 different variants of just this one shirt! Once it goes through all of them, your shirt is now published in the back end of your shopify store.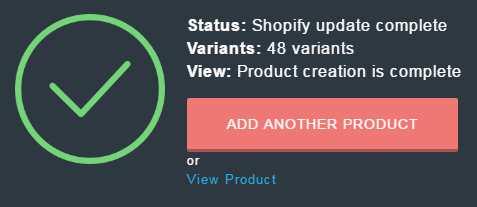 The entire point is to publish your goods on Amazon though right? To do this, we need to connect them now.
Go back to the main shopify menu and click on "Add a sales channel". This is BRAND new from Shopify and why I am so excited!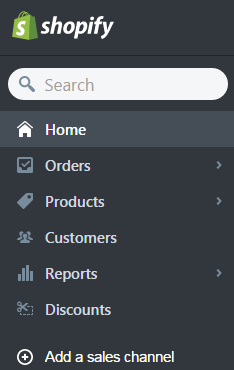 You can also find the same thing from the home page. It will be at the bottom. From the screenshot here, you can see you need to hit the install Amazon button to add this as a sales channel to your site.
If you are new to shopify, you do NOT need to create an online store since we are interested in only selling your products on Amazon using a print on demand service (teelaunch).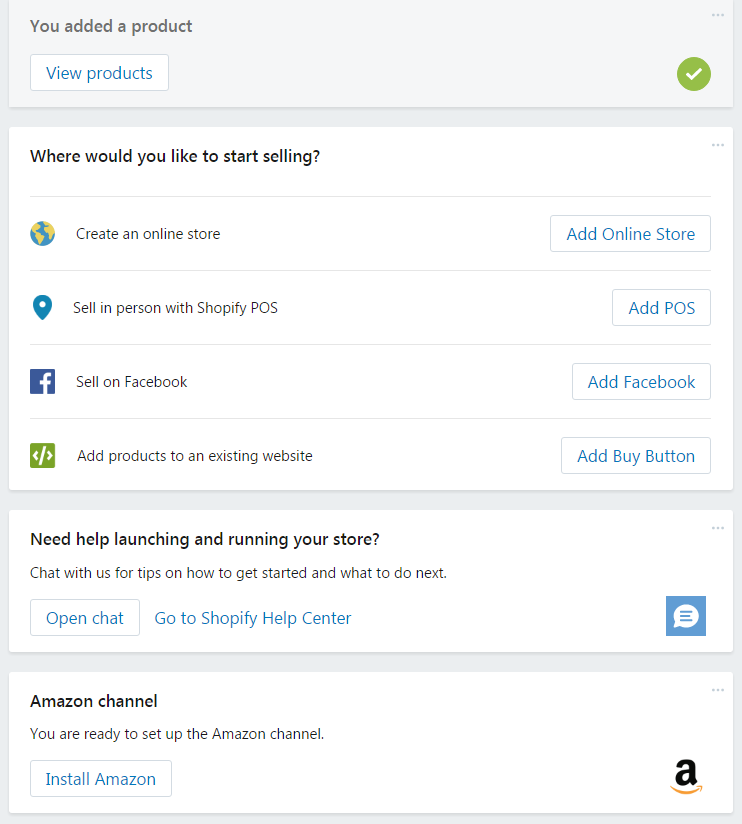 Once that is installed, you should see the sales channel added to the menu.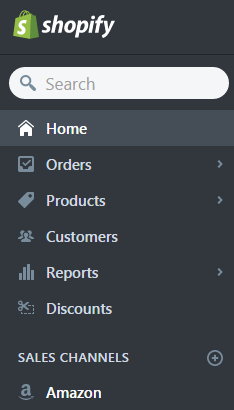 Go ahead and click on it and it will more than likely ask you to update Amazon. This is what you want to go ahead and update the sales channel.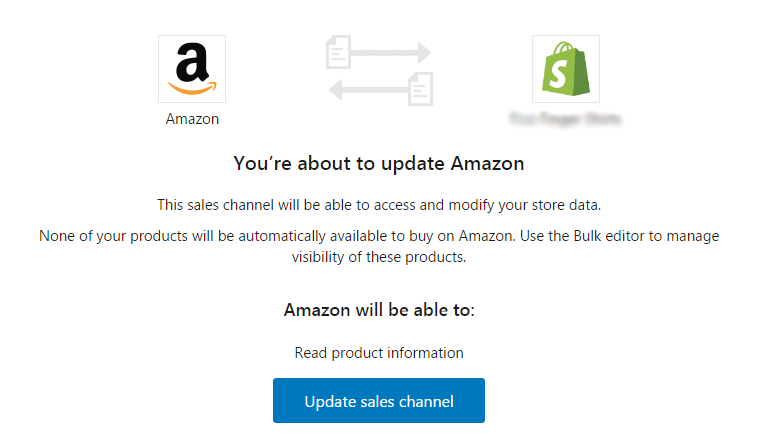 Once it is updated, you will be able to access the page. From here, you want to be able to connect shopify to your Amazon sellers account we set up earlier.


Click on Connect to Amazon. There is going to be a popup about Amazon MWS. You will need to agree to this. Essentially this is giving Shopify access to your seller central account so they can interact with each other properly.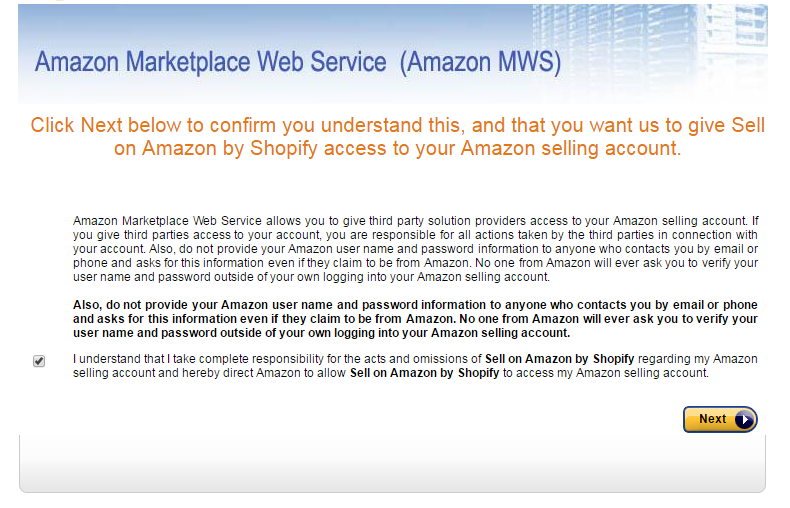 Once these are connected, you will see a screen that looks similar to this. You will see that the account is connected properly: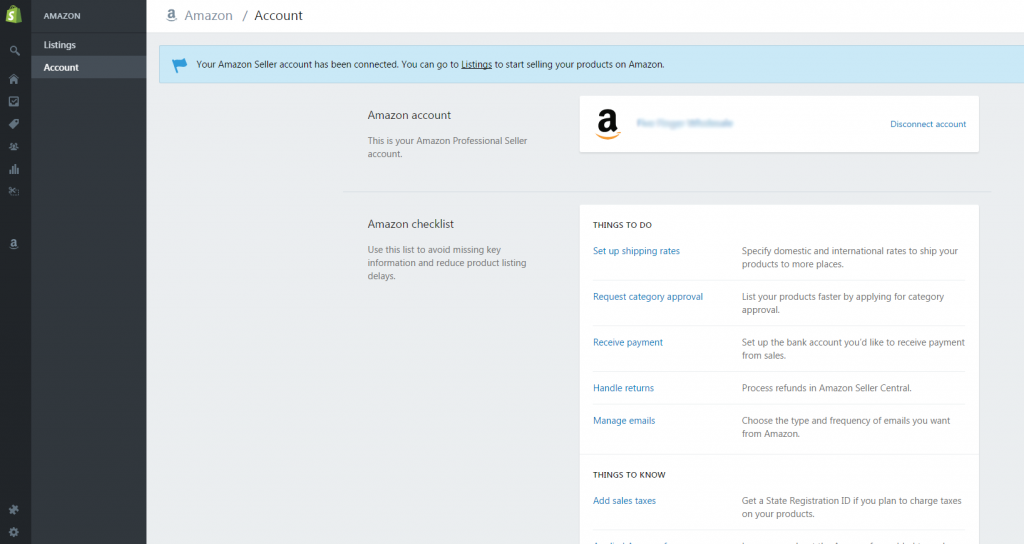 Click on the Listings in the left hand corner. We want to take the shirt we just put online and then put that shirt we created in Teelaunch onto Amazon.

Click on the sell on Amazon button. This will bring up a list of the products that you have on Shopify that you may want to sell on Amazon. Since we used Teelaunch to create a shirt, this is what is going to come up in the list.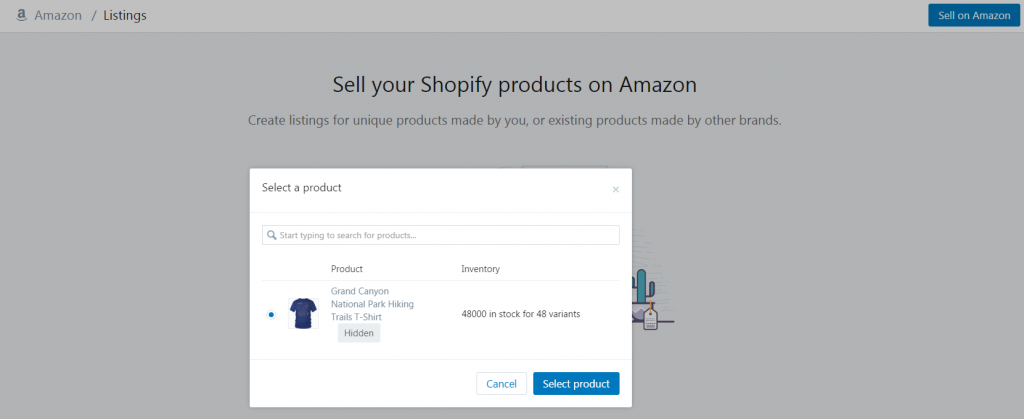 After you select the product that you want to list on Amazon, they are going to ask you if you are selling a product from another brand, or from your own brand. Select your own brand.
Note: For all the Merch by Amazon users, this is your first real opportunity to build a coherent brand and put work into growing your brand on multiple sales channels. You have full control here and will even be able to respond to the reviews you get!


When you pick that the product is made by your brand, you are going to come to the Amazon listing details. This is going to look very familiar to you if you have sold shirts on Merch before.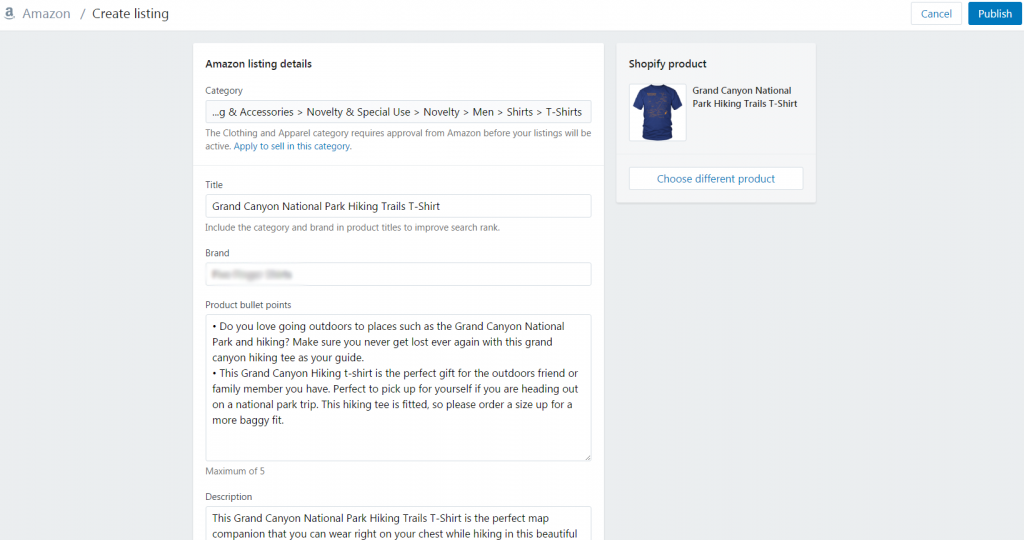 Enter in the title, your brand name, the bullet points, and description. You will need to pick a category and will notice that you cannot sell the shirt for both genders at the same time. That is perfectly fine, you can go back after the shirt is live, and then sell the other genders version under the same listing.
Finally, when you scroll down, you will see variants that you have chosen when you were creating the shirt. There will be one for every color and size combo that you created.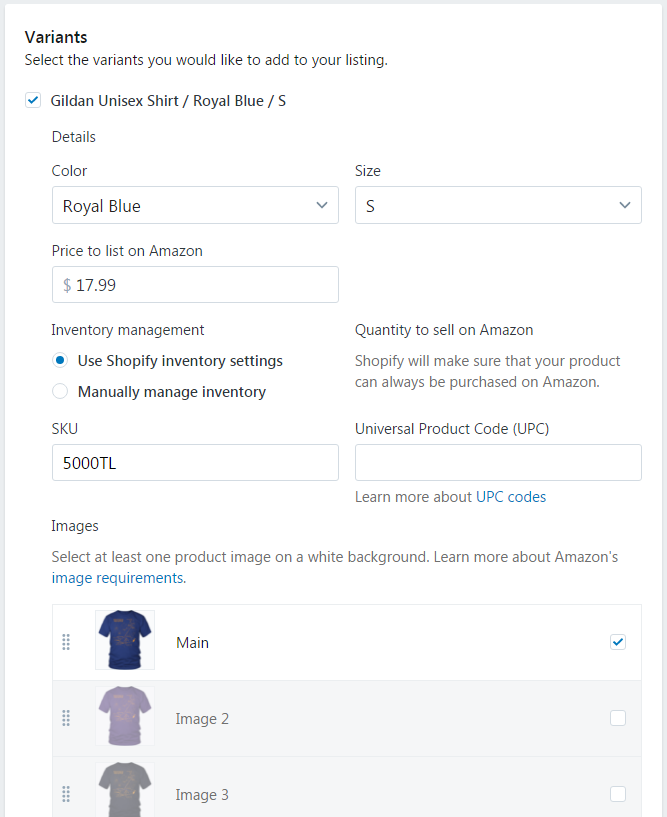 For each variant, go through and make sure the correct colored image is showing up for the title of that variant. As you can see from the above screenshot, I made sure the Royal Blue image is showing for the royal blue variant of the shirt.
SKU
You will need a unique sku for every single varient of your shirt. Your visitors will never see the SKU or the UPC, but Amazon requires you to enter this information in for every shirt Variant.
For the SKU, head on over to https://www.random.org/strings/ and select the following options and click go. You can generate however many strings you need by modifying the first box.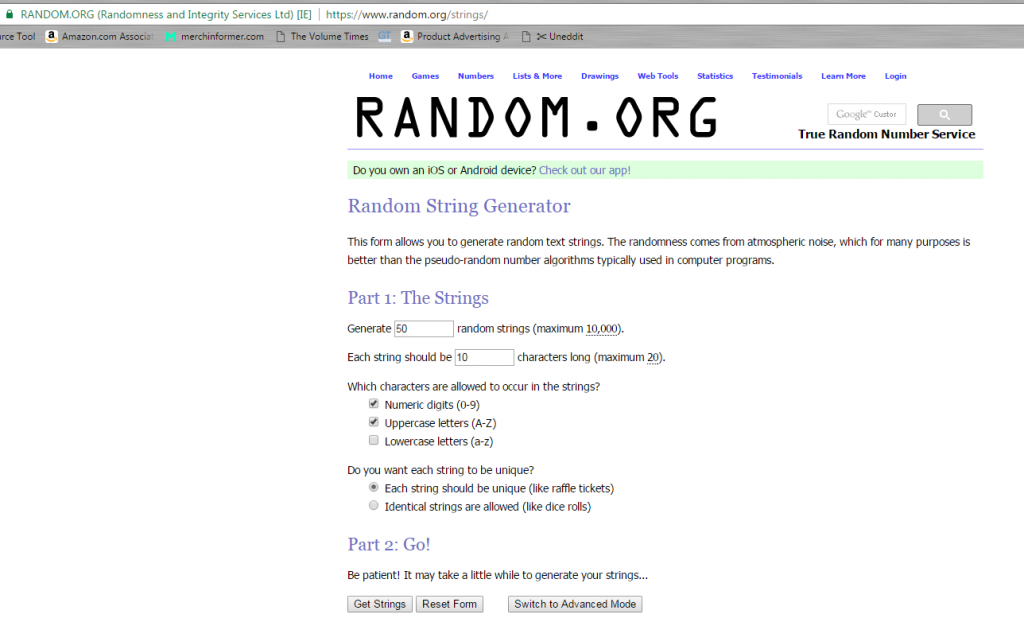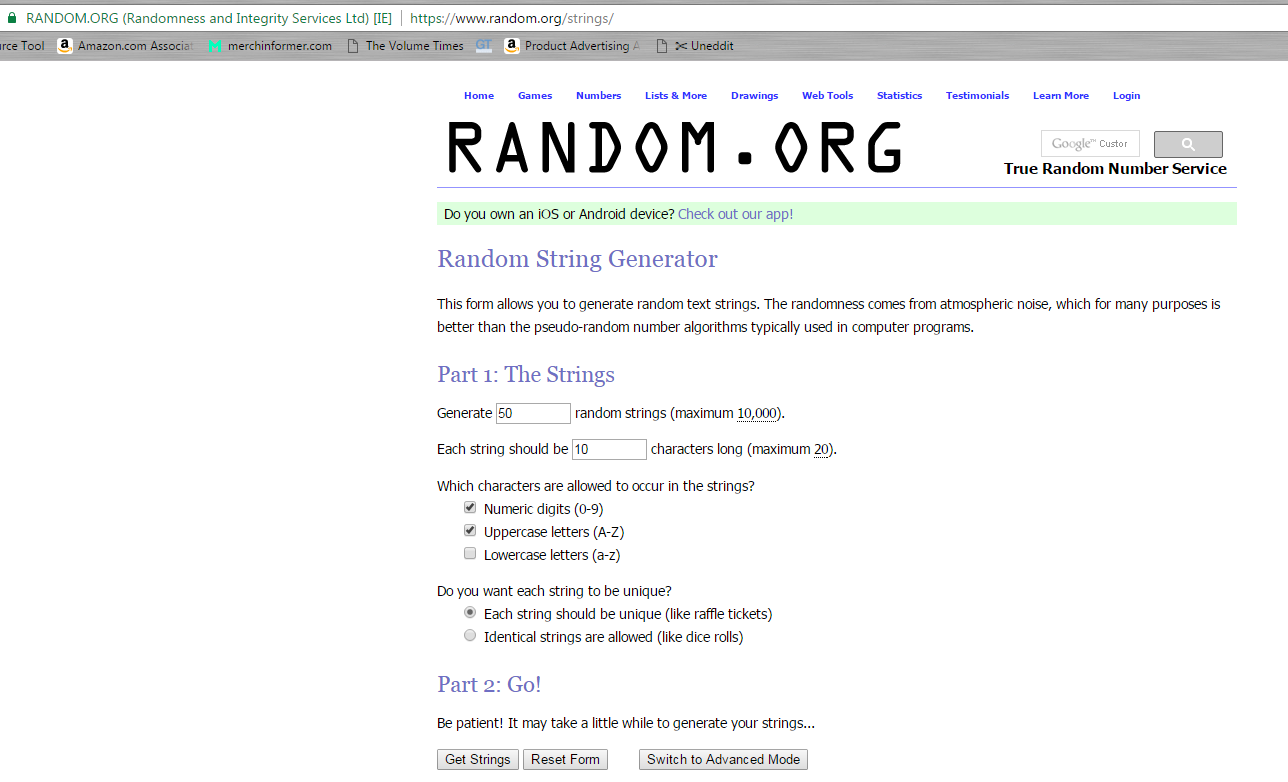 You can use each line as one of your SKUs.
UPC
Each product and variant must have its own UPC code. These are 12 digit codes. If you have sold on Amazon FBA before, you may have used EAN. So far with the Shopify integration, these will not work so you will need the 12 digit UPC. I highly recommend buying these here on upcbay. At least, avoid ebay "resellers" – you'll get banned. Once you have them, enter a unique UPC for every variant of the product.
Clothing and Apparel Category Approval
You will notice that Shopify tells you that you need approval from Amazon before you can list in this category. Click on the "apply to sell in this category" link and open it in a new tab.
Make sure you answer truthfully to these, but you will be auto approved in the end!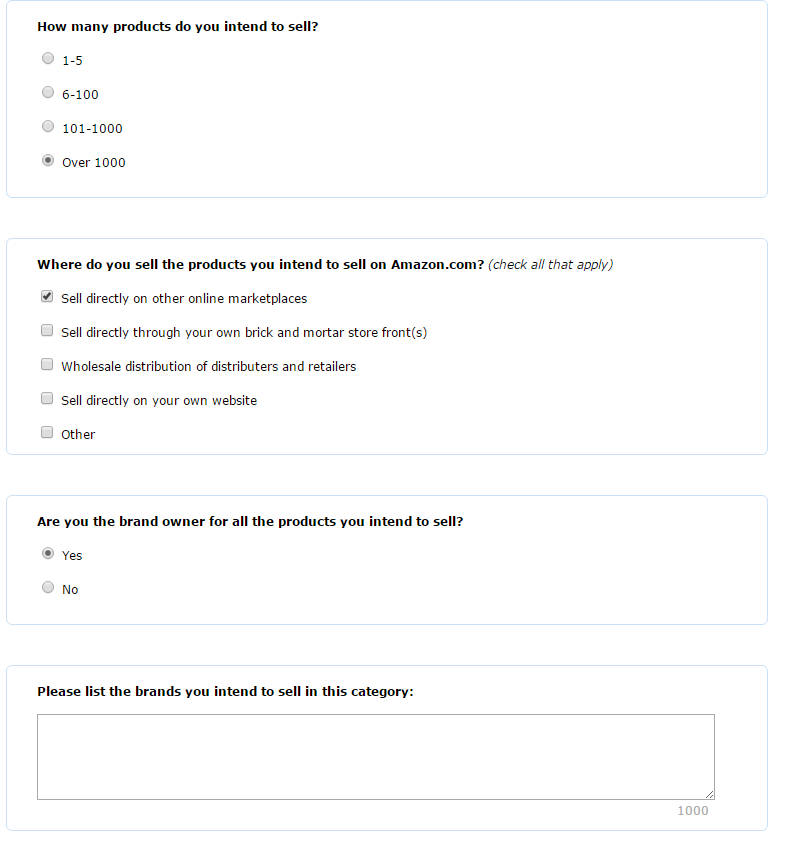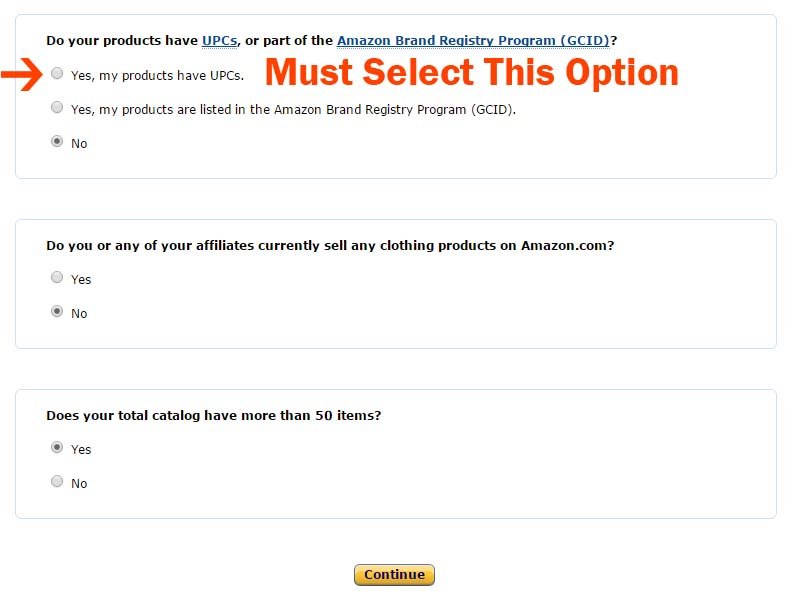 The next step is going to be answering some questions about the images you will use. Go through the questionnaire and make sure you answer them all properly. Remember that the images you will be using are being pulled from Teelaunch so they are all good to go with Amazon's requirements.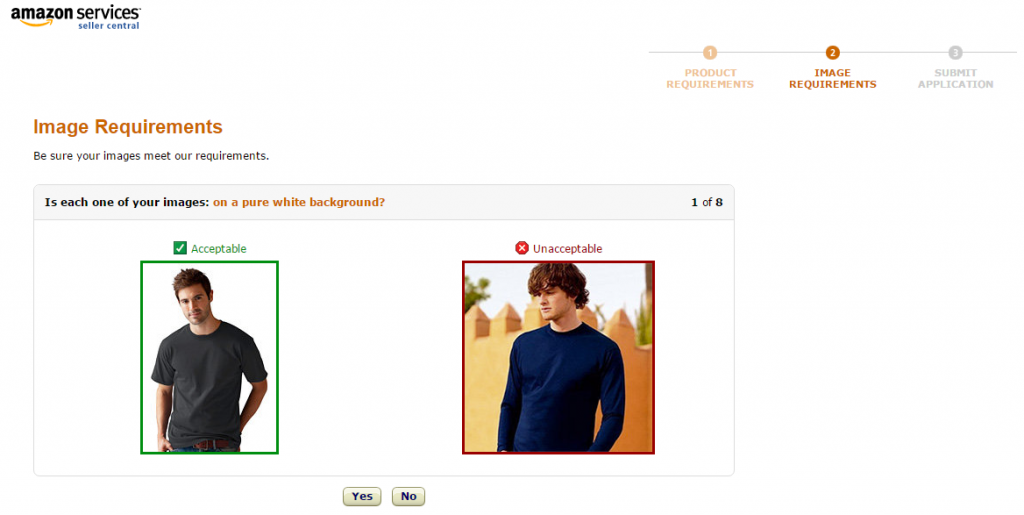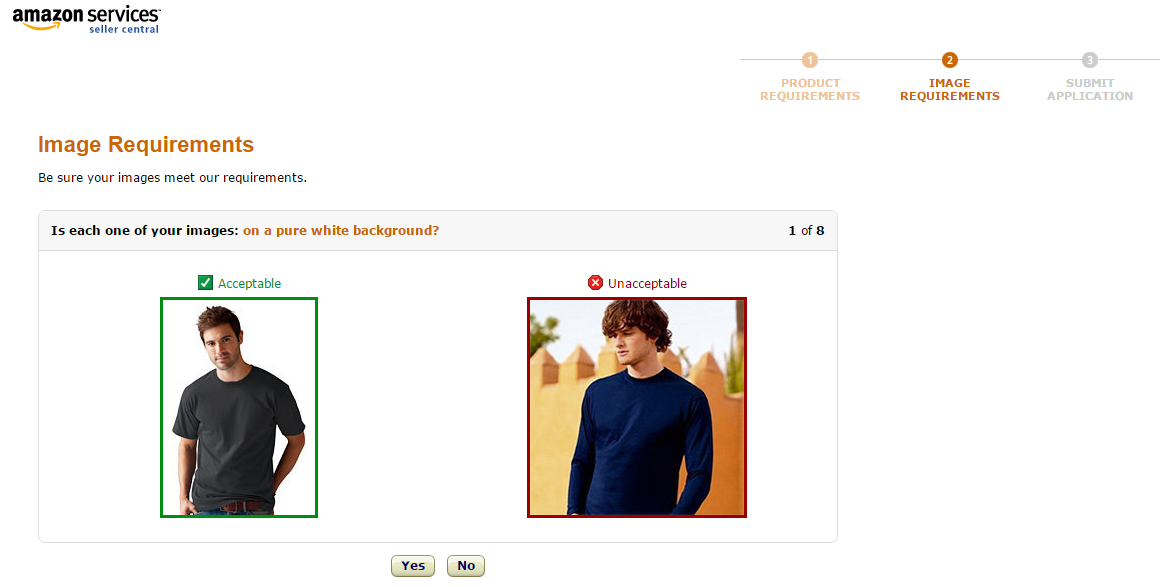 After that is complete, fill out the information and submit your application!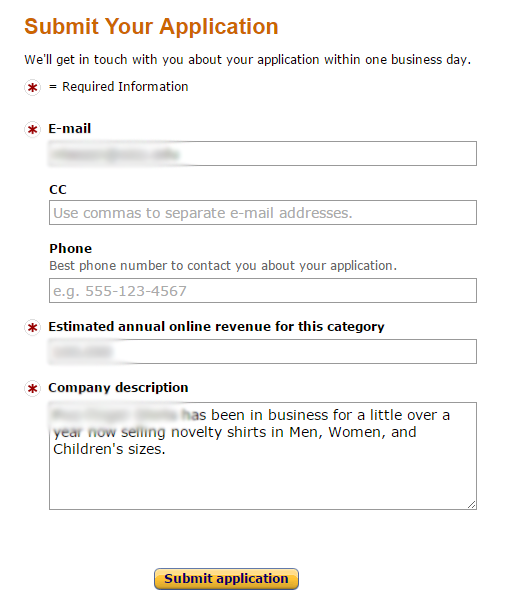 After you hit Submit Application you will now be instantly approved and can go back to your shirt listing you were working on in the other tab!
Finishing Amazon Listing
Now that you have your SKUs and UPCs listed on each variant of the product, it is now time to submit your product listing. If everything has been entered properly, your listing will go through!

As you can see from the image above, the listing has been successfully submitted to Amazon. Your listing should be listed in a pending status. This generally will change within 30 minutes to live and you will have a link to your product on Amazon.com.
Note On Shipping
When your product finally goes live and you check it, you might notice that the shipping is higher than you expected. Well, you can change this! The shipping is all controlled within your Amazon seller central account.
Head on over to your Amazon account and find the Shipping Settings and then Shipping Templates. Click on Edit Template and then you will be able to pick what type of shipping you will charge your customers.
As you can see from the screenshot, I decided to change shipping from $4.49 for everyone, to $2.99 for the lower 48 states.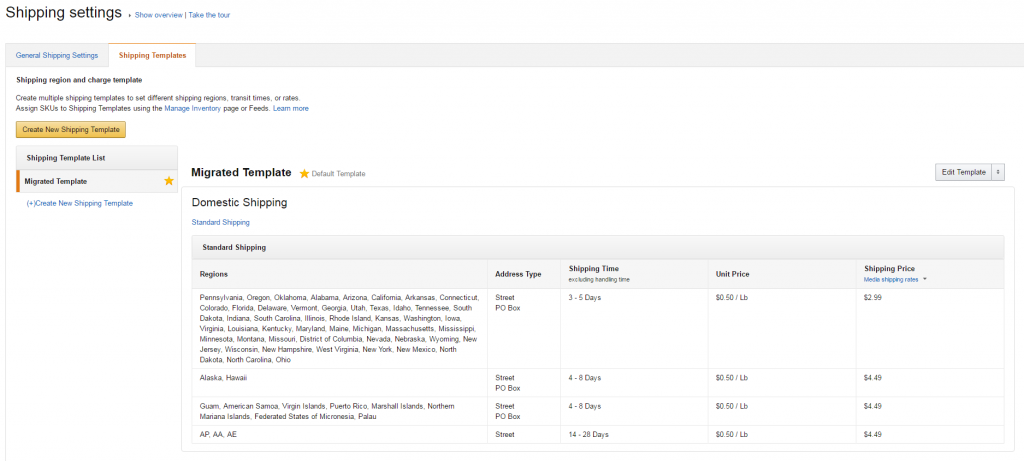 ROI Calculations
This is going to vary per shirt depending on what you price at. Keep in mind that with certain products you may be making a lot larger percentage. You might be making 100% ROI with yoga mats for example.
For shirts though, if you are pricing at 17 dollars, and charging 3 dollars shipping, then the total charge will be around $20. With Amazon fees around $3, and the t-shirt costing you $12.50 (cost of the shirt plus shipping) and a 25c Shopify fee, this leaves you around $4.25 profit for something you never touched! Scale that up by a few hundred if not thousands of shirts you are making great money.
Scale it up even further with the multitude of products you can reuse your designs on, and now you are talking about MASSIVE money, all from your original designs.
Getting Your First Sale on Shopify with Amazon
Now with your listings live, you are probably going to get some sales. When you get a sale, they will show up in Shopify (as well as seller central). Make sure you are only dealing with the orders through Shopify though.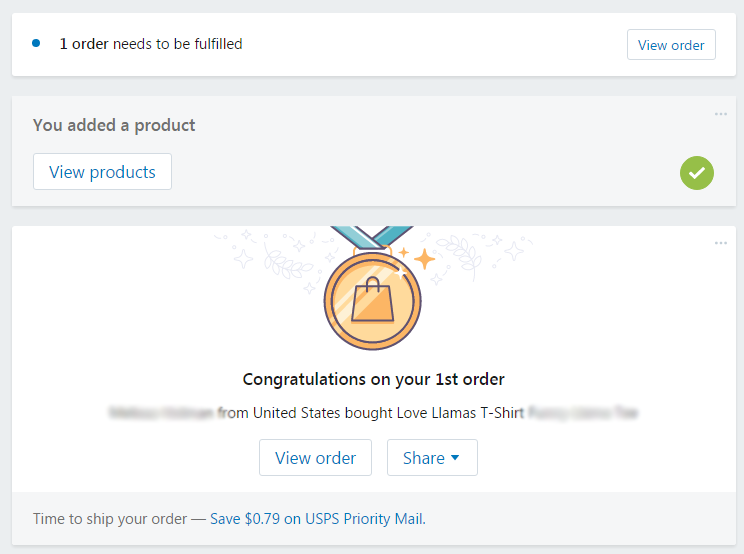 Getting your first order feels great! What is even better though is that from here it is 100% hands off.
If you go back down to apps and then go into the Teelaunch app, you should see this:

Without touching it, your shirt is now being made with Teelaunch and will be shipped to your customer as soon as it is complete. This is possible for t shirts and all other products that teelaunch offers.
Fulfilling Orders Manually
If your orders are not automatically going through to Teelaunch, you will need to do them manually. The only reason this may be happening is that the Shopify/Amazon integration is BRAND NEW and I have been assured by higher ups that this is being worked on and will be fixed soon if anyone does encounter it.
Getting Revenue From Amazon
In order to get your money from your seller account on Amazon to your bank account, you need to have a few things.
The first thing is that you must have valid credit card information on file for verification and billing purposes. This is why you added this when you set up your seller account.
The second thing you must have is valid bank account information so a transfer can occur. This can be added in the "my profile" section of your seller central account.
Basically the way it will work is that after you get a sale, it will show up in your Shopify account. Once the order is marked "fulfilled", the buyer will be emailed to let them know that their product is on the way. The funds held within Amazon will be deposited to your account every 14 days. The good news is that you can request funds faster than that! Here is what Amazon has to say on the subject.

Wrapping It Up
The Shopify/Amazon integration represents a REAL massive opportunity in the print on demand space and is going to see plenty of people make millions of dollars a year. In order to take advantage of this opportunity successfully you need only a few things:
Know what sells on Amazon
Be willing to WORK and scale your business
Know how to properly optimize your Amazon listings
If you are not hopping on this opportunity today, you are 100% leaving money on the table that is there for the taking. There is zero need to run traffic, zero inventory to hold, and 100's if not 1000's of possibilities for making money with the crazy selection of products you can now put for sale on Amazon.
Good luck out there!